It is great when you have a sandpit to play in. You can dream a bit, try out things you wouldn't do normally, and push the boundaries with little fear of hurt or harm. That's what we want to do at the Centre for Land and Water.
A small group of enthusiasats that met at the Green Shed has begun formulating plans to develop the whole field as a group "sandpit". The idea is for stakeholders to discuss and implement ways of cropping that may be outside the ordinary. Our intention is for the site to be cropped using conventional "farmer and contractor" equipment.
While full size commercial equipment is bigger than needed for this small site, the point is to use "real gear" so we can be sure the effects are easily translated to any other farming situation. We also think using controlled traffic principles is a base-line for management. We don't think we'll always be able to do that, especially as we intend process peas to be a feature of the rotations. But why not get what benefits we can, and worry about the problems when or if they actually arrive?
This aerial view (click for larger image) of the Centre site shows the layout. The buried drip irrigation is in Block 2.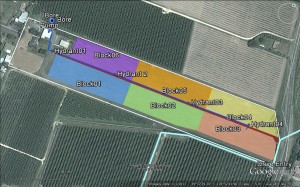 We have six micro-paddocks, three either side of the central axis access way. We have determined to have a five year rotation plan as a starting point. This can be varied, but gives a clear direction to start the journey. Initial thinking is to chop-in the broadbeans in spring and plant a vining pea crop across the site. We have a few different  ideas to try out. We'll follow the peas with  some summer crops.
Mark Redshaw from Ballance AgriNutrients has taken soil samples from each of the six micro-paddocks. They are to be analysed at Hills Labs to establish base line levels across the site. We are grateful for their support as we get underway.